Palm Height Residence apartment An Phu Thu Duc City HCM
Address:
Nam Rach Chiec An Phu District 2 HCMC
Overview
Maps
Video
Property Listings
Palm Height Residence Location in Ho Chi Minh City:
One such residential area is Palm Height Residence. Located in An Phu District 2, Palm Height Residence is a part of Palm City offers a tranquil and serene environment amidst the hustle and bustle of the city. Situated along the banks of the Saigon River, this residential complex provides its residents with stunning views of the river and the surrounding greenery.
Palm Height Residence itself is a modern and stylish condo development, designed by artist to provide a comfortable and luxurious living experience. The complex features a range of facilities and amenities, including a swimming pool, fitness center, playground, and landscaped gardens. Residents can also enjoy 24-hour security and concierge services, ensuring their safety and convenience.
What are the amenities offered at Palm Height Residence?
Palm Height Residence offers a wide range of amenities to enhance residents' living experience. Here are some of the amenities offered at Palm Height Residence:
1. Swimming Pool: Residents can enjoy taking a refreshing dip in the swimming pool, which is perfect for leisurely swims or simply lounging by the poolside.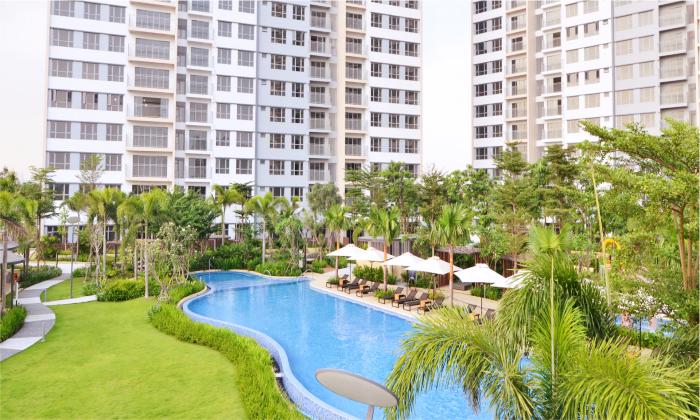 2. Fitness Center: Palm Height Residence features a well-equipped fitness center, allowing residents to maintain an active and healthy lifestyle. The gym is equipped with modern exercise machines and equipment for residents to exercise and stay fit.
3. Clubhouse: The clubhouse at Palm Height Residence provides a space for residents to socialize and engage in community activities. It is an ideal venue for gatherings, parties, and events.
4. Children's Playground: Families with children will appreciate the children's playground at Palm Height Residence. This outdoor play area is designed to provide a safe and fun environment for kids to play and enjoy themselves.
5. Tennis Court: For those who enjoy playing tennis, Palm Height Residence offers a tennis court where residents can indulge in their favorite sport.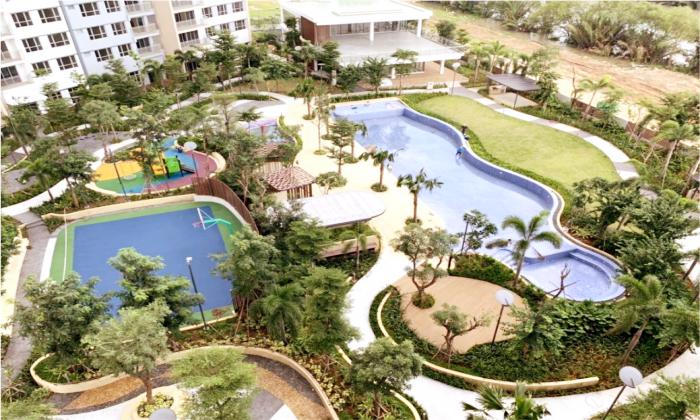 6. BBQ Area: There is also a designated BBQ area where residents can enjoy outdoor cooking and dining with family and friends.
7. 24/7 Security: Palm Height Residence prioritizes the safety and security of its residents. The property is equipped with 24/7 security personnel and CCTV surveillance to ensure a secure living environment.
8. Parking Facilities: Residents of Palm Height Residence have access to convenient and ample parking facilities.
What is the cost of living in Palm Height Residence?
1. Rental or Purchase Price: The cost of renting or buying a unit in Palm Height Residence will depend on the size and type of property. Typically, larger units with more bedrooms and better views will have a higher price tag. It is advisable to check with real estate agents or property websites Vnrenthome.com for the most accurate pricing information.
2. Maintenance Fees: Residents of Palm Height Residence are required to pay monthly maintenance fees to cover the cost of maintaining and managing the common areas, facilities, and services. The amount of these fees can vary depending on the size of the unit and the amenities provided.
3. Utilities: The cost of utilities such as electricity, water, and gas will depend on the consumption and rates in the area. It is advisable to inquire with the local utility companies or previous residents to get an estimate of these costs.
4. Transportation: Palm Height Residence is well-connected to major roads and public transportation options. The cost of transportation will depend on personal preferences and usage. Residents can choose to own a private vehicle or use public transportation like buses or taxis.
5. Groceries and Dining: The cost of groceries and dining
Are pets allowed in Palm Height Residence?
Pets are generally allowed in Palm Height Residence, but there may be some restrictions and guidelines that need to be followed. It is essential to check with the residence management or consult the property's pet policy to obtain specific information.
Some common rules for pets in residential areas include restrictions on the size, breed, and number of pets allowed per unit. There might also be additional charges or fees associated with having pets, such as pet deposits or monthly pet rent.
Furthermore, it is important to consider the comfort and well-being of the pets themselves. Palm Height Residence might have designated pet-friendly areas or amenities, such as dog parks or walking paths, where residents can take their pets for exercise and socialization.
It is always advisable to clarify the pet policy with the residence management to ensure compliance with any necessary rules and regulations
Are there any nearby restaurants or shops near Palm Height Residence?
If you are looking for restaurants or shops near Palm Height Residence, you're in luck! There are several options within a short distance from the residence.
For dining options, you can find a variety of cuisines to satisfy your taste buds. Just a few steps away from Palm Height Residence, you'll find a quaint café called "The Corner Kitchen." They offer delicious breakfast and lunch options, including sandwiches, salads, and pastries. It's a great spot to grab a quick bite or sit down and enjoy a relaxing meal.
If you're in the mood for something more substantial, head over to "The Palm Bistro." This restaurant specializes in Asian fusion cuisine and is known for its flavorful dishes and cozy atmosphere. From sushi to stir-fried noodles, their menu has something for everyone.
In terms of shopping, there are several options nearby. Within walking distance, you'll find a small grocery store where you can stock up on everyday essentials. They have a wide range of fresh produce, snacks, and household items.
Make An Enquiry