Amazing Interior Design Three Bedroom Apartment For Rent in The Marq District 1 HCMC

3 Beds

2 Baths

4 FL
Type:
Apartments For Rent in Ho Chi Minh City      
Reference ID: 21162
Rental: 4,200 USD
Size:

145 Sqm
Overview
Maps
Video
Similar properties
Amazing Interior Design Three Bedroom Apartment For Rent in The Marq District 1 HCMC:
THE MARQ APARTMENT FOR RENT IN DISTRICT 1 - A Diamond Residential project situated in a beautiful of the heart Ho Chi Minh's Central Business a District. Located at 29B Nguyen Dinh Chieu Street Dakao Ward District 1, The residents have the city at their doorstep. Enjoy some of Ho Chi Minh's best restaurants and bars without having to leave your block. Not up for a night on the town, stay in and relax in your beautifully appointed home;
THE MARQ APARTMENT FOR RENT IN DISTRICT 1 is the first residential project of HONG KONG LAND in Ho Chi Minh Minh City, It offers to you the most luxurious apartment living in Saigon. This project has launched in the end of 2018, and will be expect to hand over the customers in 2020. THE MARQ APARTMENT FOR RENT IN DISTRICT 1 total 516 units, combine with one bedroom from 45SQM to 75SQM, two bedroom apartment from 72SQM to 85SQM and three bedroom apartment 109SQM to 145SQM.
THE MARQ APARTMENT FOR RENT IN DISTRICT 1 meets home comfort: Freshwater Apartments were designed to offer gorgeous, affordable apartment homes within a lively commercial District known for its City views, industry and culture. Freshwater Apartments offers spacious floor plans, and with over 15 plans, you have your choice of options to fit your personal style, flare, and amenity needs.
Three bedroom Apartment for rent in The Marq District 1, HCM City.  Usable area 145sqm on 04th Floor, including: 1 living room, 3 bedrooms, 3 bathrooms and 01 kitchen, Fully furnished with curtain and with European style, facing directly to river and urban living area at bedroom, living room.
Amenities:
- Furniture: fully furnished with sofa, dining table,high-class beds, desk, television
- Air-conditioner, refrigerator, water heater, microwave and oven
- Cable television, ADSL internet connection, telephone
- 24/7 security, parking space
- Balcony/window
- Shower/bathtub
- Electricity cooker system 
- Gym, swimming pool and reading room
- Mini supermarket
- Restaurants 
- Elevator
- Near schools, hospitals, shopping centers
Check more options Apartment for rent in District 2 HCM City
Contact us to arrange an appointment
68 Nguyen Hue Street, Dist.1, Ho Chi Minh City
P: +84(0) 866 800 123 – E: info@vnrenthome.com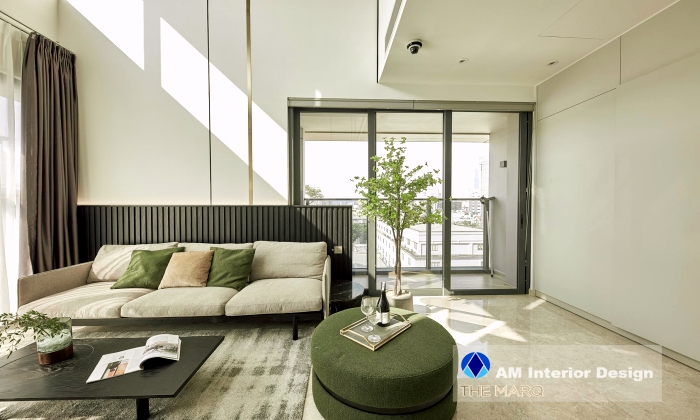 Size: 145 Sqm  -  
ID: 21162
Rental:
4,200 USD

3

2

4Available Now
CHECK AVAILABILITY
Make An Enquiry