One Bedroom Serviced apartment for rent in Co Giang Phu Nhuan District Ho Chi Minh city

1 Beds

1 Baths

6 FL
Address:
Co Giang Street Phu Nhuan District HCMC
Type:
Serviced Apartments For Rent in HCMC      
Reference ID: 18012
Rental: 600 USD
Size:

40 Sqm
Overview
Maps
Video
Similar properties
One Bedroom Serviced apartment for rent in Co Giang Phu Nhuan District Ho Chi Minh city:
Newly Built Serviced Apartment in Phu Nhuan District Offers Affordable Comfortable Living with Private Balcony. Situated at  Cô Giang Street in Phu Nhuan District Ho Chi Minh City, the newly constructed serviced apartment for rent is an excellent choice for those looking for a comfortable and affordable place to live. Each apartment comes fully furnished, has a size of 45sqm, and features a private balcony with a beautiful view of the surrounding area. The monthly rent is around $600/month for long term and short term living, making it an excellent choice for those looking for an affordable home.
The apartments are spacious, airy, and feature high-quality furnishings to ensure residents enjoy a relaxing and comfortable living environment. The rooms come with a fully equipped kitchen, including a refrigerator, microwave, and stove, making it easy for residents to prepare their meals.
Although the building doesn't have a fitness center, residents can enjoy other facilities such as a rooftop garden and a 24/7 security service. Additionally, the building offers free high-speed internet and cable TV, keeping residents connected to the world.
The location of this serviced apartment is ideal for those who want to live in a vibrant part of the city work in Tan Binh or Phu Nhuan District. It is in close proximity to many local markets, restaurants, and cafes, providing easy access to a wide range of dining options. It is also conveniently located near many transport options, including buses and taxis, making it easy for residents to get around the city.
In conclusion, the newly built serviced apartment complex in Phu Nhuan District is an excellent choice for those looking for an affordable and comfortable place to live. The apartments' modern amenities, spacious rooms, private balcony, and convenient location make it a great option for anyone looking for a home in Ho Chi Minh City!
Amenities:
- Furniture: fully furnished with sofa, dining table,high-class beds, desk, television
- Air-conditioner, refrigerator, water heater, microwave
- Cable television, ADSL internet connection, telephone
- 24/7 security, parking space
- Balcony/window
- Elevator
- Near schools, hospitals, shopping centers
Contact us to arrange an appointment
68 Nguyen Hue Street, Dist.1, Ho Chi Minh City
P: +84(0) 0909457542 – E: info@vnrenthome.com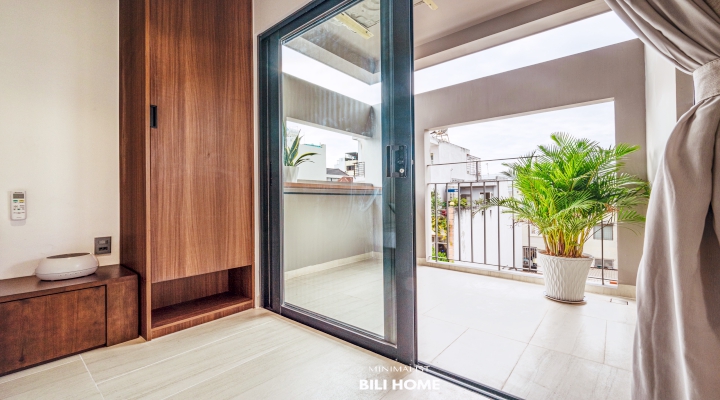 Size: 40 Sqm  -  
ID: 18012
Rental:
600 USD

1

1

6Check Availability
Make An Enquiry
CHECK AVAILABILITY
Please complete the below form, and one of our agents will contact you soon.