Amazing Three Bedroom Serviced Apartment Home in Luxone Thao Dien HCMC

3 Beds

2 Baths

5 FL
Address:
Le Van Mien Street Thao Dien Thu Duc City
Type:
Serviced Apartments For Rent in HCMC      
Reference ID: 12282
Rental: 3,200 USD
Size:

105 Sqm
Overview
Maps
Video
Similar properties
Amazing Three Bedroom Serviced Apartment Home For Rent in Luxone Thao Dien HCMC:
The Luxone Serviced Apartment for rent in  Le Van Mien Thao is a modern and luxurious accommodation option in the heart of the city. Boasting a prime location, this apartment is perfect for business and leisure travelers who want to experience the best of Ho Chi Minh City, and whom is working Thao DThaoien BIS School, Where is a lot of famous restaurants nearby such as: LUXONE coffee Shop downstair and restaurant, MASON MAN DO RESTAURANT, MAID HOUSE Restaurant and much more that you could explore.
The Luxone Serviced Apartmentoffers a range of spacious and beautifully appointed units, each equipped with all the necessary amenities to ensure a comfortable stay. From high-speed internet and flat-screen TVs to fully-equipped kitchens and stylish bathrooms, these apartments offer a home-away-from-home experience that is both practical and luxurious.
The Luxone Serviced Apartment also offers a range of premium facilities to enhance your stay. You can take a dip in the rooftop swimming pool and enjoy stunning views of the city, work out at the fitness center, or relax in the sauna and steam room. Additionally, there is a 24-hour reception and security service to ensure your safety and comfort at all times.
Located in a prime location in District 2, the Luxone Serviced Apartment is just a stone's throw away from some of the city's top attractions, including shopping centers, restaurants, and entertainment venues. The property is also conveniently located near public transportation, making it easy to explore the city and beyond.
In summary, the Luxone Serviced Apartment in Le Van Mien Thao is a stylish and modern accommodation option that offers all the comforts and conveniences of home, along with premium facilities and a prime location in the heart of Ho Chi Minh City.
Rent for two bedroom apartment with size 75SQM is from $1550/Month and three bedrom is $2750/month to $3400 depending on floor and size for at least 6 months contract. Rent included: Tv cable, wifi internent, cleaning  twice a week and changing bedsheet once a week. Pay extra for electricity and drinking water, water using doing laundry at laundry room.
Amenities:
- Furniture: fully furnished with sofa, dining table,high-class beds, desk, television
- Air-conditioner, refrigerator, water heater, microwave
- Cable television, ADSL internet connection, telephone
- 24/7 security, parking space
- Balcony/window
- Shower/bathtub
- Near schools, hospitals, shopping centers
Contact us to arrange an appointment
68 Nguyen Hue Street, Dist.1, Ho Chi Minh City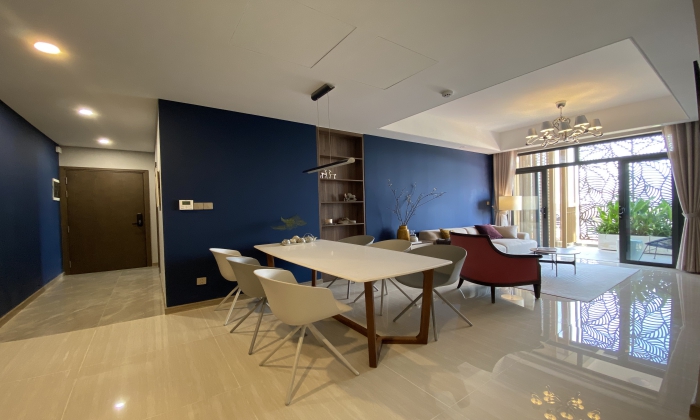 Size: 105 Sqm  -  
ID: 12282
Rental:
3,200 USD

3

2

5Check Availability
Make An Enquiry
CHECK AVAILABILITY
Please complete the below form, and one of our agents will contact you soon.