Fantastic Three Bedroom Apartment For Rent in Sailing Tower District HCMC

3 Beds

2 Baths

18 FL
Address:
Nguyen Thi Minh Khai Street District 1 HCMC
Type:
Apartments For Rent in Ho Chi Minh City      
Reference ID: 21144
Rental: 2,000 USD
Size:

124 Sqm
Overview
Maps
Video
Similar properties
Fantastic Three Bedroom Apartment For Rent in Sailing Tower District HCMC:
Location: Sailing Tower Apartment for rent Nestled on business street Nguyen Thi Minh Khai Ben Nghe District 01 and just 5 minutes drive to Ho Chi Minh City center and tourist attractions: Reunification Palace, Notre Dame Cathedral, Opera House, Ben Thanh Market,…
Structure: Sailing Tower Apartment brings you experience of staying in luxurious hotel with 2 bedrooms, living room with elegant set of sofa and wooden dinning table, fully-equipped kitchen and modern bathroom.
Sailing Apartment for rent in Nguyen Thi Minh Khai Street is nestled in the heart of the Ho Chi Minh City and is surrounded by trees, creek views, beautiful landscaping and offers quick access to commercial buildings. Offering a selection of thoughtfully designed one and two bedroom home plans, The Avalon Apartment is sure to have the perfect home to fit your lifestyle. Sailing Apartment for rent in Nguyen Thi Minh Khai Street deliver sophisticated and sleek design combined with breathtaking views of city Centre, and  luxury amenities that include a swimming pool, 24-hour fitness center and resident community garden, you can enjoy a full day off without even leaving your house. 
Three Bedroom Sailing Apartment for rent, District 1, HCM City.  Usable area 124 sqm, including: 1 living room,03 bedroom, 02 bathroom and kitchen, fully furnished, amazing luxury design with European style on 18th floor, bedroom face to to City Centre, brilliant view to Saigon City, 30th April Park. Rent is $2000/month and not included management fee.

The rental excludes: 
- Maintenance and management fee, motorbike parking service 
- Pay extra Water consumption, cable television, ADSL Internet connection 
- House-keeping 
- Monthly electricity charges (individual meter) 
- Tax invoice
Check more options: Apartment for rent in District 1 HCMC
Contact us to arrange an appointment
68 Nguyen Hue Street, Dist.1, Ho Chi Minh City
P: +84(0) 0909 457542 – E: info@vnrenthome.com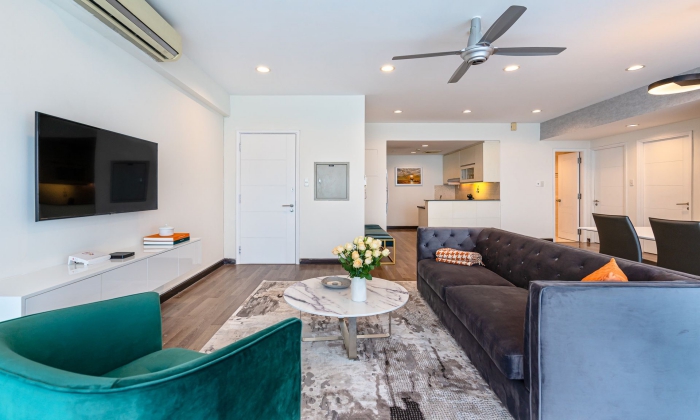 Size: 124 Sqm  -  
ID: 21144
Rental:
2,000 USD

3

2

18Check Availability
Make An Enquiry
CHECK AVAILABILITY
Please complete the below form, and one of our agents will contact you soon.