One Bedroom Apartment For Rent in Citadines Regency Saigon District 3 HCM City

1 Beds

1 Baths

10 FL
Type:
Serviced Apartments For Rent in HCMC      
Reference ID: 13357
Rental: 2,200 USD
Size:

46 Sqm
Overview
Maps
Video
Similar properties
One Bedroom Apartment For Rent in Citadines Regency Saigon District 3 HCM City:
Citadines Regency Saigon Serviced Apartment sets the new standard for modern architectural apartments. These exclusive, light-filled luxury apartments are located in Pham Ngoc Thach Street District 3 where is the heart Ho Chi Minh Chi Minh City, Citadines Regency Saigon Serviced Apartment offers a curated living experience for those expecting more from urban apartment living.. 
Whether you're in downtown Ho Chi Minh City for an extended stay, a vacation, job placement, or relocation, Citadines Regency Saigon 's beautifully furnished apartments provide a seamless transition that allows you to maintain your usual day-to-day routine..
Residents will have access to the facilities, which includes an outdoor swimming pool and hot tub, sauna and steam room, rooftop basketball court, expansive fitness center and more. Business travelers can take advantage of large high-tech boardrooms, complimentary Wi-Fi and 24-hour business services. All apartments in Citadines Regency Saigon Serviced Apartment boast city views, open-concept living and a gourmet kitchen with everything you could need -- from high quality appliances, utensils, tableware and a coffee maker. 
Apartment featured: 46SMQ, private one bedroom an and modern kitchen, luxury living room, view to city.
Amenities:
- Furniture: fully furnished with sofa, dining table,high-class beds, desk, television
- Air-conditioner, refrigerator, water heater, microwave
- Cable television, ADSL internet connection, telephone
- 24/7 security, parking space
- Balcony/window
- Shower/bathtub
- Near schools, hospitals, shopping centers
- Swimming pool, gym, suana, team batth.
Contact us to arrange an appointment
68 Nguyen Hue Street, Dist.1, Ho Chi Minh City
P: +84(0) 2866 800 123 – E: info@vnrenthome.com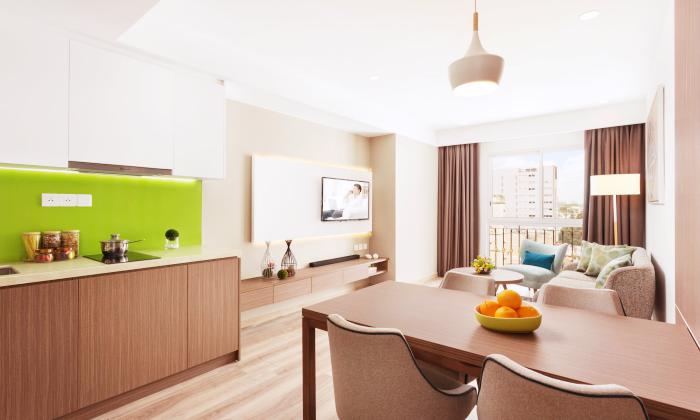 Size: 46 Sqm  -  
ID: 13357
Rental:
2,200 USD

1

1

10Check Availability
CHECK AVAILABILITY
Make An Enquiry