Vintage Style One Bedroom Apartment in Tran Quoc Thao Street District 3 HCMC

1 Beds

1 Baths

2 FL
Address:
Tran Quoc Thao St, District 3 HCMC
Type:
Apartments For Rent in Ho Chi Minh City      
Reference ID: 13327
Rental: 700 USD
Size:

70 Sqm
Overview
Maps
Video
Similar properties
Vintage Style One Bedroom Apartment in Tran Quoc Thao Street District 3 HCMC:
NIce one bedroom apartment offer the bestlocation Tran Quoc Thao Street, District 3, Ho Chi Minh City. This new renovated apartment for rent in District 3 offers for the people who  are working in this urban area. Located in the heart of District 3, there is easy access to restaurants, shopping, the movie theater, and grocery stores., 10 minutes to reach Nguyen Hue walking street , and Ben Thanh Market.  
The neighborhood known for tree-lined avenues, stately homes and exceptional parks is the perfect location, City destinations are only a few minutes away where you can enjoy restaurants, museums, botanical gardens or plentiful shopping.
Amenities:
- Furniture: fully furnished with sofa, dining table,high-class beds, desk, television
- Air-conditioner, refrigerator, water heater, microwave
- Cable television, ADSL internet connection, telephone
- 24/7 security, parking space
- Balcony/window
- Shower
- Near schools, hospitals, shopping centers
Check more options: Serviced apartment for rent in Phu Nhuan District HCM City
Contact us to arrange an appointment
68 Nguyen Hue Street, Dist.1, Ho Chi Minh City
P: +84(0) 866 800 12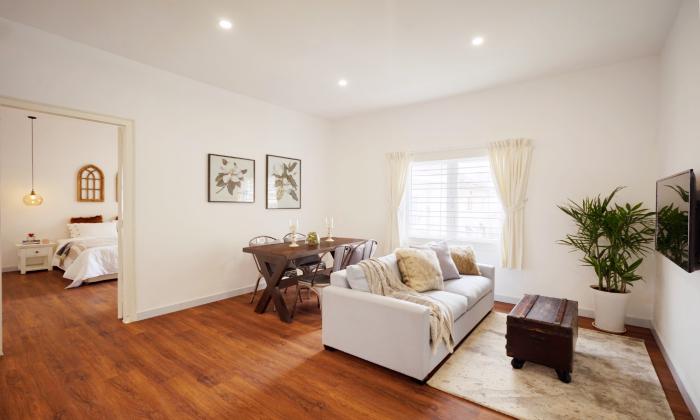 Size: 65 Sqm  -  
ID: 13373
Rental:
800 USD

2

2

2Check Availability
Make An Enquiry
CHECK AVAILABILITY
Please complete the below form, and one of our agents will contact you soon.