Luxury 1 Bedroom Saigon Airport Bluesky Serviced Apartment For Rent
1 Bed
1 Bath
6 FL
Bach Dang Street, Tan Binh District, HCMC
Type: Serviced Apartments For Rent in HCMC Reference ID: 1029
Rental: USD 1.200
Gross Area: 57 sq m
Overview
Maps
Video
Similar properties
CHECK AVAILABILITY
Luxury One - Bedroom Saigon Airport Bluesky Serviced Apartment For Rent, Tan Binh Dist, HCMC:
Located on Bach Dang street, opposite Tan Son Nhat Airport on Truong Son street, Tan Binh District, HCM City.This luxury serviced apartment takes you seven minutes to go to Maximark Supermarket and 5 minutes to reach Tan Son Nhat international airport.
These modern serviced apartments have nice decorations with high standard of luxury apartment equipments and are well-equipped with good security system which is used in big buidling so as to make sure to bring you a good living when you stay. 
This nice serviced apartment gives a quick access to go to a lot of pubs, restaurants, coffee shops, and shopping malls, its location is also Central Business District in 30 minutes.
Amenities:
- Furniture: fully furnished with sofa, dining table,high-class beds, desk, television
- Air-conditioner, refrigerator, water heater, microwave
- Cable television, ADSL internet connection, telephone
- 24/7 security, parking space
- Balcony/window
- Shower
- Outdoor surveillance camera system
- Near schools, hospitals, shopping centers
- Swimming pool, Gym
The rental includes:
- Maintenance and management fee, motorbike parking service
- Water consumption, cable television, ADSL Internet connection
- House-keeping service
- Laundry service ( have a washing machine in each apartment) 
Check more options: Serviced apartment for rent in Tan Binh district
Contact us to arrange an appointment
68 Nguyen Hue Street, Dist.1, Ho Chi Minh City
P: +84(0) 866 800 123
This location is very convenient, it's just a few minute to International Airport, and also to serve the whole area : basements, swimming pool, parks, supermarkets, gym, banks, children's playground, security, maintenance, restaurants, health centers, etc.
Check more options: Serviced apartment for rent in Tan Binh District - HCM City
Contact us to arrange an appointment
68 Nguyen Hue Street, Dist.1, Ho Chi Minh City
P: +84(0) 866 800 123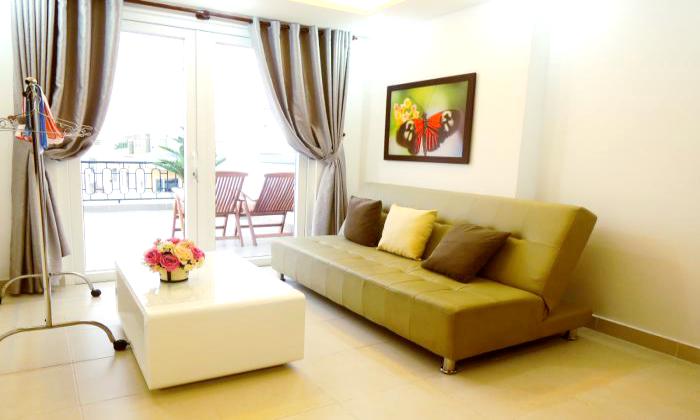 Gross Area: 102 sq m -
ID: 1032
Rental:
1.200 USD
2
2
6
CHECK AVAILABILITY
Make An Enquiry